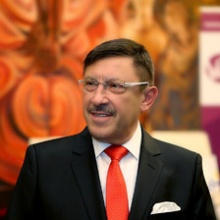 Message from the President
Dear Communications Professionals,
World Communications Forum Association is a leading global think-thank for new ideas and approaches to one of the most interesting and for sure the most dynamic businesses in the world these days - Public Relations.
Social media changed our business, our lives and also the way we look at the surrounding world literary upside down. Since the very first edition of the Forums we started to organize in beautiful Davos, Switzerland back on 2010 we were emphasizing on those changes and were trying to find the best ways to improve the business environment, to find new tools to move ahead successfully in benefit of our teams and - of course - in benefit of our clients.
Hundreds of highly educated professionals appeared and presented in our meetings and I can definitely say that the best ideas for innovative and fully successful business in the modern environment were born exactly within the events organized by the Association.
From Kuala Lumpur to Prague, from Moscow to New York, from Paris to Kyiv we were spreading our the best International practices in the Public Relations, Public Affairs and Social Media practices all over the world and taking good lessons of them.
Our community is growing fast and I would like to invite any of you - friends and colleagues - to join us and to participate in our meetings, discussions, online chats and travels. Just send us an email or give us a shout and we are ready to guide you in the most advanced world of modern communications.
Sincerely,
Maxim Behar
President
World Communications Forum Association