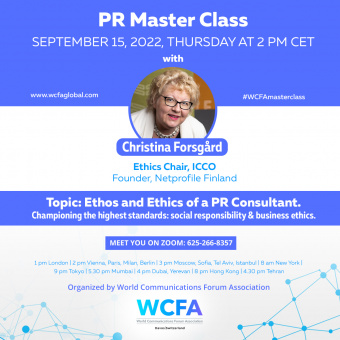 WCFA is hosting the first PR Master Class led by ICCO Ethics Chair Mrs. Christina Forsgard. She will give her expertise on the topic "Ethos and ethics of a PR consultant. Championing the highest standards: social responsibility & business ethics."
This Master Class will take place on September 15, Thursday at 2 p.m. Central European Time.
Everyone can join it for free on Zoom: https://zoom.us/j/6252668357
During the course Christina Forsgard will highlight the importance of ethics in the field of public relations. She will explore the ethical issues that can be encountered in all areas of strategic communications and will develop an understanding of how to overcome ethical dilemmas. Through various study cases Christina will present the PR practitioner's roles and responsibilities regarding business ethics.
Christina Forsgard is the Ethics Chair at the International Communications Consultancy Organisation (ICCO) and Founder of Netprofile Finland. She is communications consultant specialized at cyber crisis communications and management, social media strategist, speaker, influencer, angel investor, startup coach, advisor and board member, and the author of social media book SUHDE (Relationship). Christina was nominated among TOP100 ICT Influencers in Finland in 2009. Between 2009 and 2014, Christina was the Chairman of MTL Communications Consultancies and was the Finnish representative at ICCO.
... Read More